Tori Spelling and Dean McDermott's turbulent relationship has been filled with scandal from the beginning.
The 50-year-old actress and the 57-year-old actor were married to other people when they met on the set of their Lifetime movie "Mind Over Matter" in July 2005. Spelling and actor Charlie Shanian had tied the knot a year earlier while McDermott had been married for 12 years to actress Mary Jo Eustace.
The "Beverly Hills, 90210" star revealed in her 2009 memoir "sTORI Telling" that she and McDermott felt an instant connection and spent the night together at a hotel after they first met.
"It was love at first sight. I fell so hard … Then I noticed he had a wedding ring," Spelling wrote. "And — oh, yeah — I had a husband too," Spelling wrote.
DEAN MCDERMOTT BLAMES TORI SPELLING SPLIT ON HIS DRUNKEN RAGES, HER CHOICE TO HAVE BARN ANIMALS IN THE BEDROOM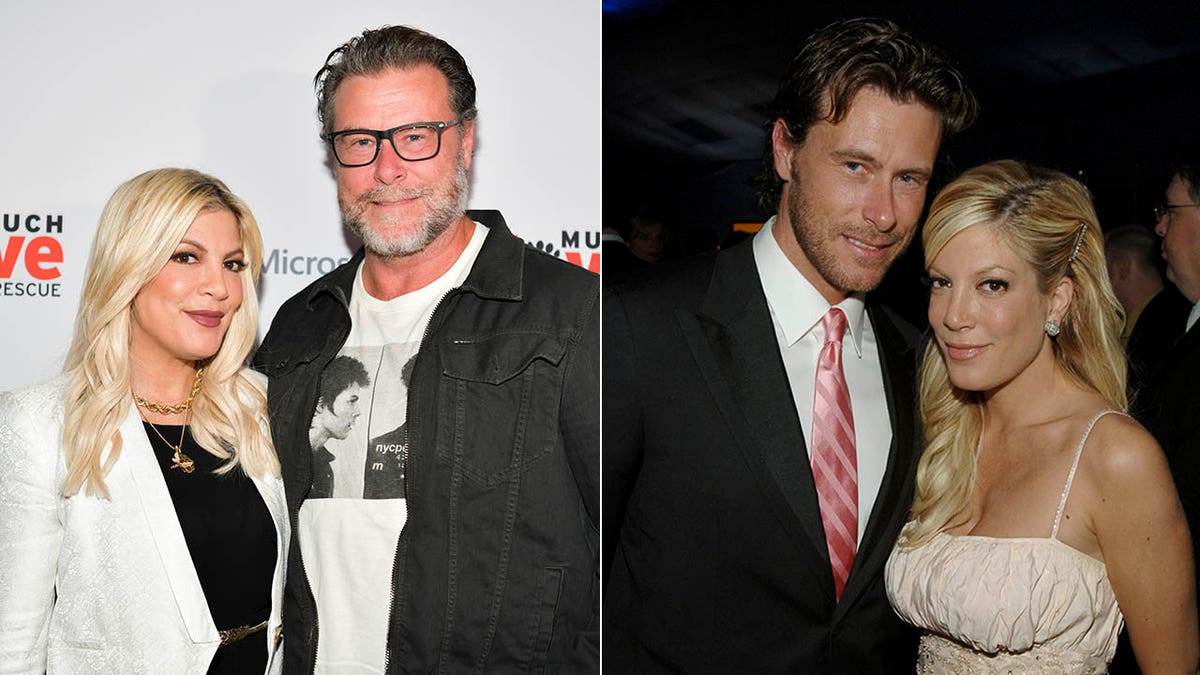 "It was fun to flirt, but I knew nothing would happen … But: Dean and I went to a bar after dinner. And we spent the night at the Cartier Place.
"The following day when I woke up next to Dean, I had no regrets. Something was really wrong with my marriage. Not only because I slept with this guy — though that certainly wasn't a positive sign — but because I didn't regret it."
In "sTORI Telling," Spelling recalled admitting to the affair during a therapy session with Shanian before they separated in October 2005. In September of that year, McDermott filed for divorce from Eustace, who told People their split was "humiliating beyond anything I've ever known."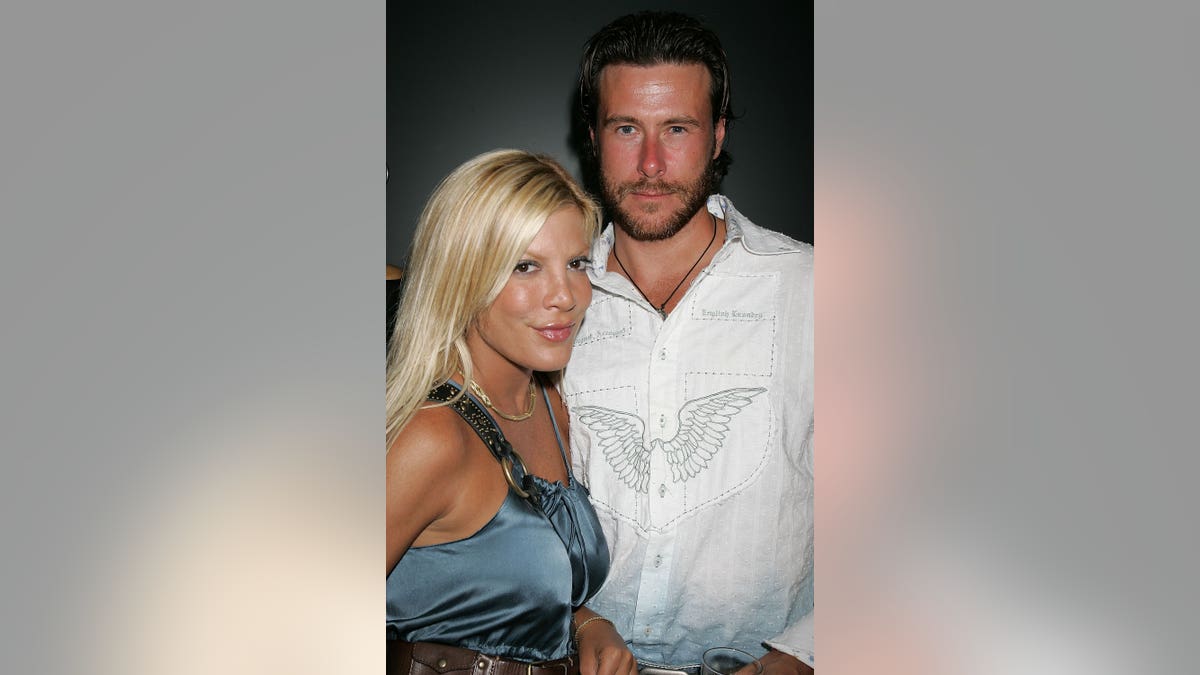 At the time, McDermott and Eustace, who share son Jack, now 25, were in the process of adopting daughter Lola, now 18. After the exes separated, Eustace proceeded to adopt Lola as a single parent.
Spelling and McDermott announced their engagement in December 2005 and tied the knot in Fiji in May 2006, less than a month after their divorces from their ex-spouses were finalized.
"We didn't want to wait another day to get married," the "Scary Movie 2" star told People magazine at the time. 
"I've never had as much of a desire to get married and make a woman my wife as I've had with her," McDermott added. "The feeling is overwhelming. We're soul mates."
In 2007, the couple starred in the Oxygen reality show "Tori & Dean: Inn Love" for two seasons and welcomed their first child, son Liam, in March of that year.
The series was renamed "Tori & Dean: Home Sweet Hollywood" after their move back to Los Angeles the following year, and Spelling gave birth to their daughter Stella in June 2008.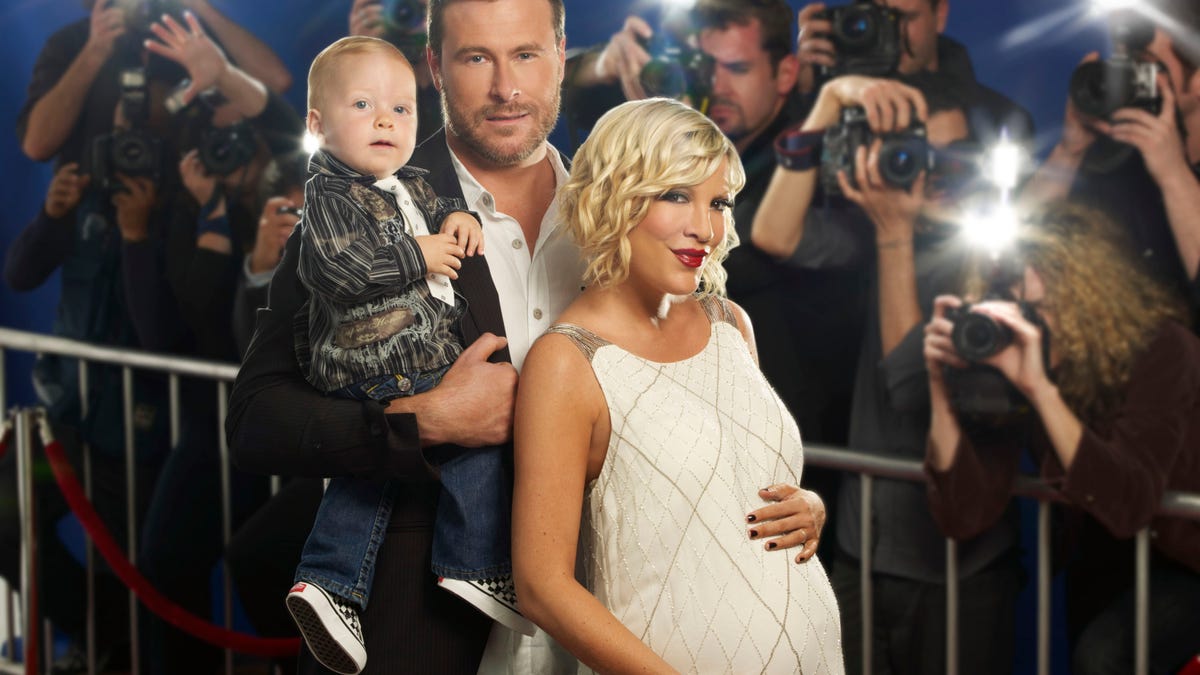 The pair sparked rumors of a split in 2010 after they were seen fighting in scenes from their show. Spelling later quashed the divorce speculation during an appearance on the "Today" show.
"We're committed to each other, we're committed to this family," she said. "But, you know, we work on things just like everyone else."
DEAN MCDERMOTT DEFENDS WIFE TORI SPELLING AFTER 'COWARD' TROLLS INSULT HER BIKINI PIC
Spelling and McDermott renewed their vows in May 2010 and welcomed their daughter Hattie in 2011. "Tori & Dean: Home Sweet Hollywood" was canceled in January 2012 after four seasons. 
The actress gave birth to their fourth child, son Finn, in August 2012 after a difficult pregnancy. Spelling later revealed she was hospitalized for 10 weeks and spent four months on bed rest after being diagnosed with placenta previa. 
In March 2013, Spelling slammed reports that she and McDermott were headed for divorce. McDermott was accused of cheating on Spelling in December of that year. Emily Goodhand, then 28, told Us Weekly that she and McDermott had a brief affair while he was promoting his show "Chopped Canada" in Toronto.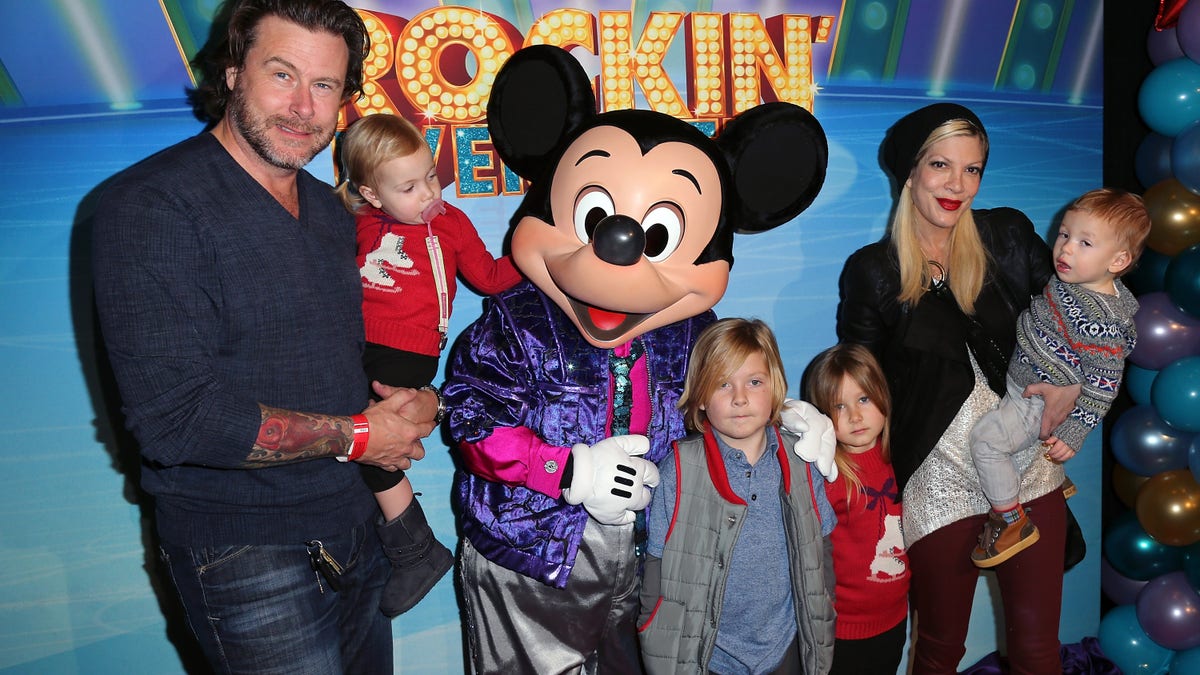 "He told me he and Tori had a sexless marriage," Goodhand said. "I believed him."
The following month, McDermott admitted he had cheated on his wife and entered rehab. 
"I am truly sorry for the mistakes I have made and for the pain I've caused my family," he said in a statement. 
"I take full responsibility for my actions and have voluntarily checked myself into a treatment center to address some health and personal issues. I am grateful to be getting the help I need so I can become the husband and father my family deserves."
The couple's marital woes in the aftermath of McDermott's cheating scandal were documented in the reality series "True Tori." 
In 2016, McDermott proposed to Spelling again while they were vacationing with their family in Europe. That year, the couple's financial troubles made headlines after Spelling was sued twice by American Express for unpaid bills. The two were also hit with a tax lien by the state of California due to unpaid taxes.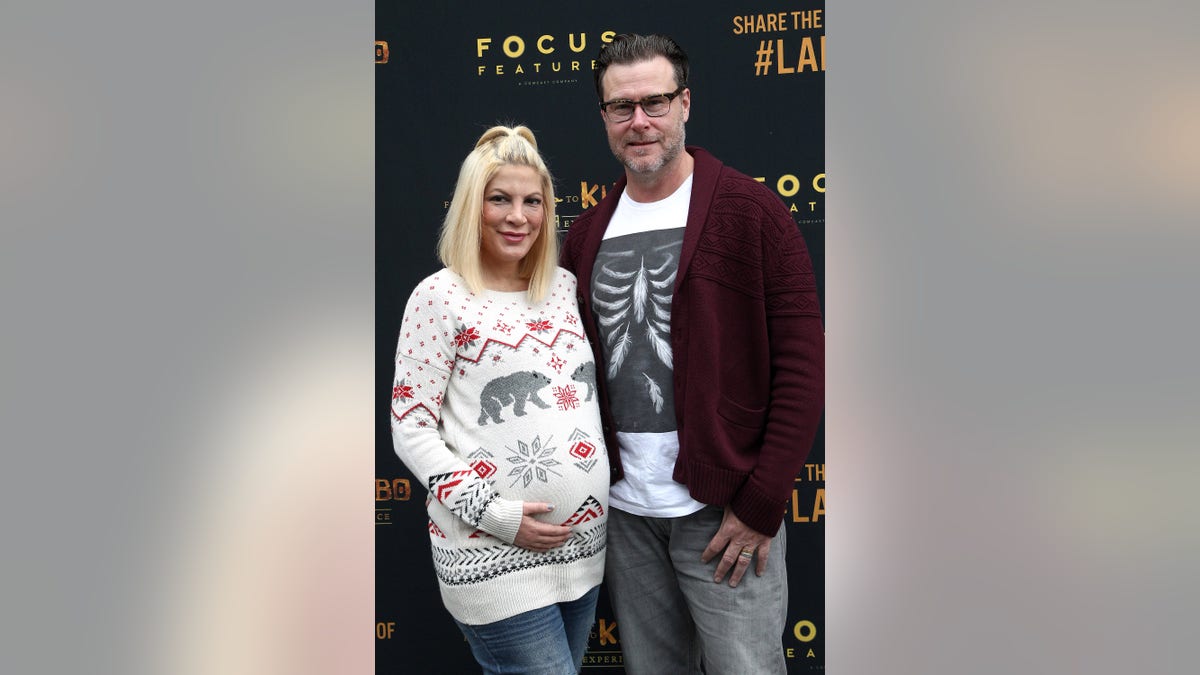 McDermott and Spelling welcomed their fifth child, son Beau, in March 2017. The Los Angeles native told People magazine Beau was a "symbol" of their repaired relationship. 
"I feel like Beau is really the pillar of the rebirth of our relationship because our relationship had to crumble for it to be rebuilt, and it was really important that we just start it over," Spelling said. 
"I think Beau is a symbol of that because he's the first baby out of all five that we're raising in a communicative way."
In March 2018, the Los Angeles Police Department confirmed to People that officers had responded to a 911 call at the couple's home. Officers told the outlet the "disturbance" call was related to a "domestic incident" and "no crime" had been committed. No further details were disclosed. 
The couple was slapped with two additional tax liens by the state of California in 2018 and 2020. 
Rumors of marital strife between the two surfaced again in 2021 after Spelling was spotted without her wedding ring and the couple didn't acknowledge their 15th wedding anniversary on Instagram.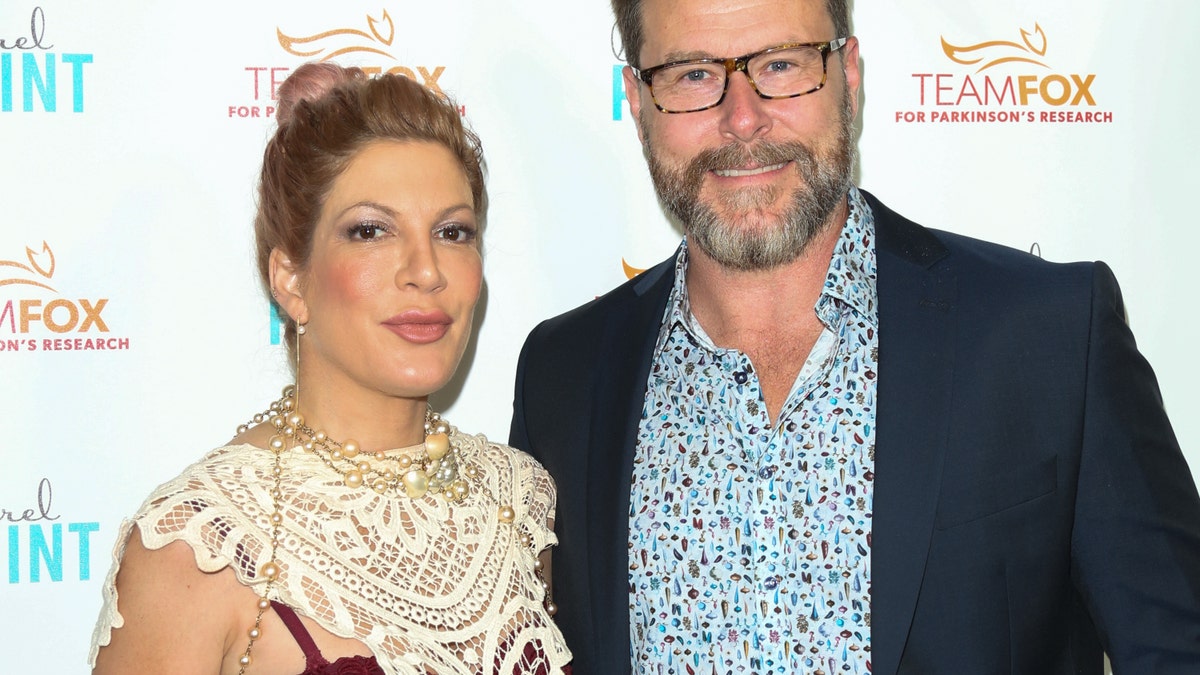 During an appearance on SiriusXM's "Jeff Lewis Live" in June 2021, Spelling revealed she and McDermott slept in separate bedrooms. The actress said, "Right now, my kids and dogs sleep in my bed." 
Later that year, the "Due South" actor was noticeably absent from a Christmas card that Spelling posted on Instagram. She later explained that he was away filming at the time. The two also spent New Year's Eve apart.
Amid speculation the pair had separated, McDermott made an appearance on Spelling's show "@Home with Tori," in which he told his wife, "You're so cute, baby."
In June 2023, McDermott announced that he and Spelling had separated in an Instagram post that he later deleted.
"It's with great sadness and a very very heavy heart that after 18 years together and 5 amazing children, that @torispelling and I have decided to go our separate ways, and start a new journey of our own," McDermott wrote.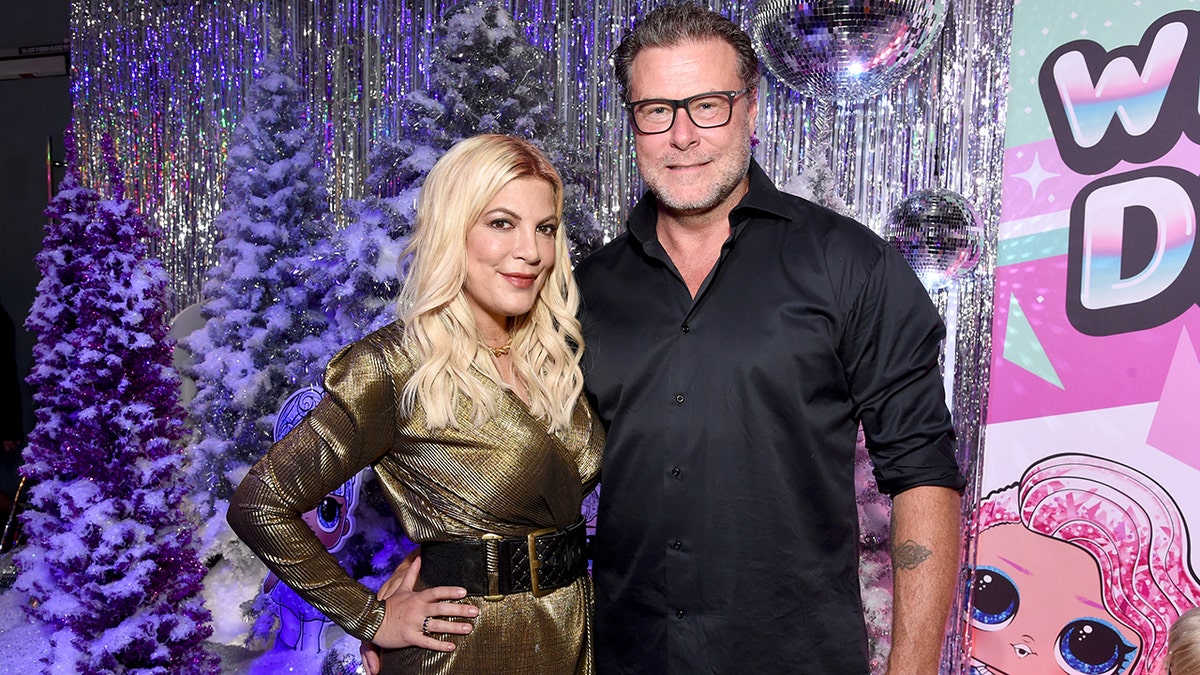 "We will continue to work together as loving parents and guide and love our children through this difficult time. We ask that you all respect our privacy as we take this time to surround our family with love and work our way through this. Thank you all for your support and kindness." 
The Canada native's post came two days after Spelling shared a family photo that included him on Instagram.
LIKE WHAT YOU'RE READING? CLICK HERE FOR MORE ENTERTAINMENT NEWS
In October, McDermott was photographed kissing new girlfriend Lily Calo. Earlier this month, Spelling was pictured sharing a kiss with advertising executive Ryan Cramer.
McDermott opened up about his split from Spelling in an interview with DailyMail.com earlier this week. He revealed that he was drunk when he posted the announcement of their separation on Instagram and had subsequently entered rehab at Spelling's urging.
He cited his struggles with addiction and her choice to keep barn animals in their bedroom as just two reasons for their separation.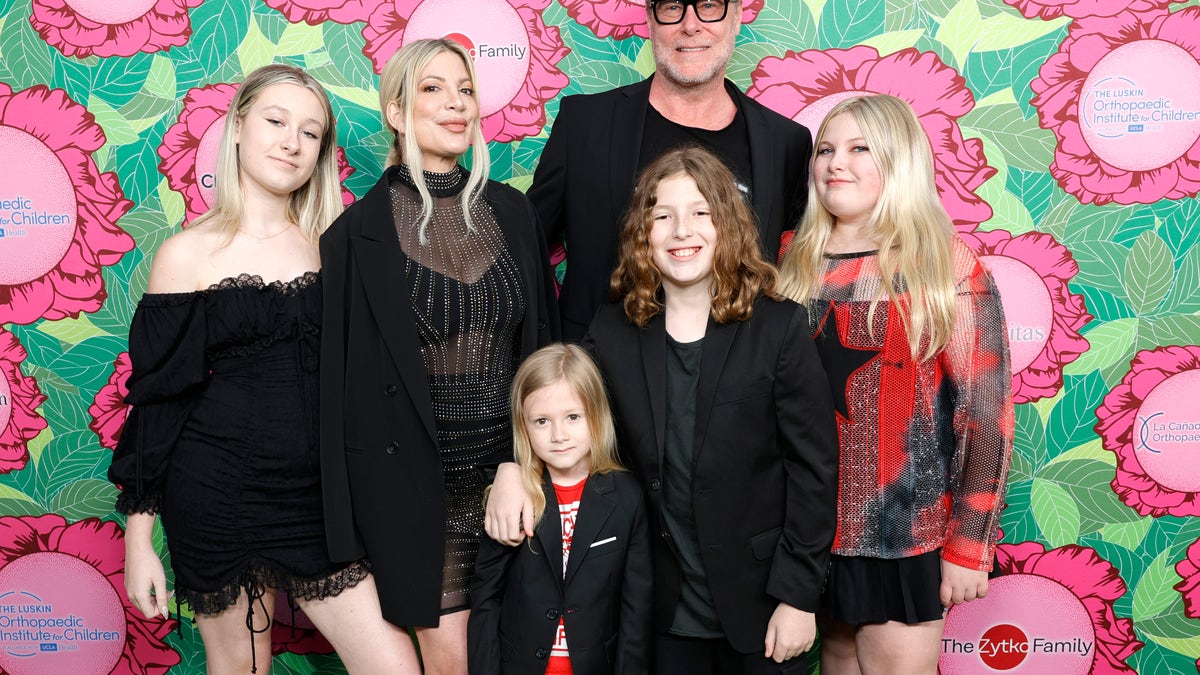 "Alcohol made me feel good enough," McDermott shared. "I started feeling good enough until it got to a point where it didn't — it ended up in isolation. It ended up with me drinking a fifth of tequila every night, seven days a week, and a handful of narcos [prescription meds] by myself with a beautiful family in the other room.
CLICK HERE TO SIGN UP FOR THE ENTERTAINMENT NEWSLETTER
"That's what it led to and that's what led to the brokenness and to what happened between me and Tori. I couldn't do it anymore. I couldn't live that life anymore. I was tired of the anger and the yelling."
When he was in this state, McDermott would go into rages that left Spelling and their five children "petrified." He would also pass out to the point where Spelling felt the need to make sure he was still alive.
McDermott is now sober after spending the summer in rehab, and he confessed to Daily Mail, "It's going to be living the rest of my life making amends because I took something that was really beautiful and I just tore it down year after year, day after day."
The actor also described several animals living in their shared bedroom, including a pig, multiple dogs and a chicken, which he said led to his decision to sleep in a separate room.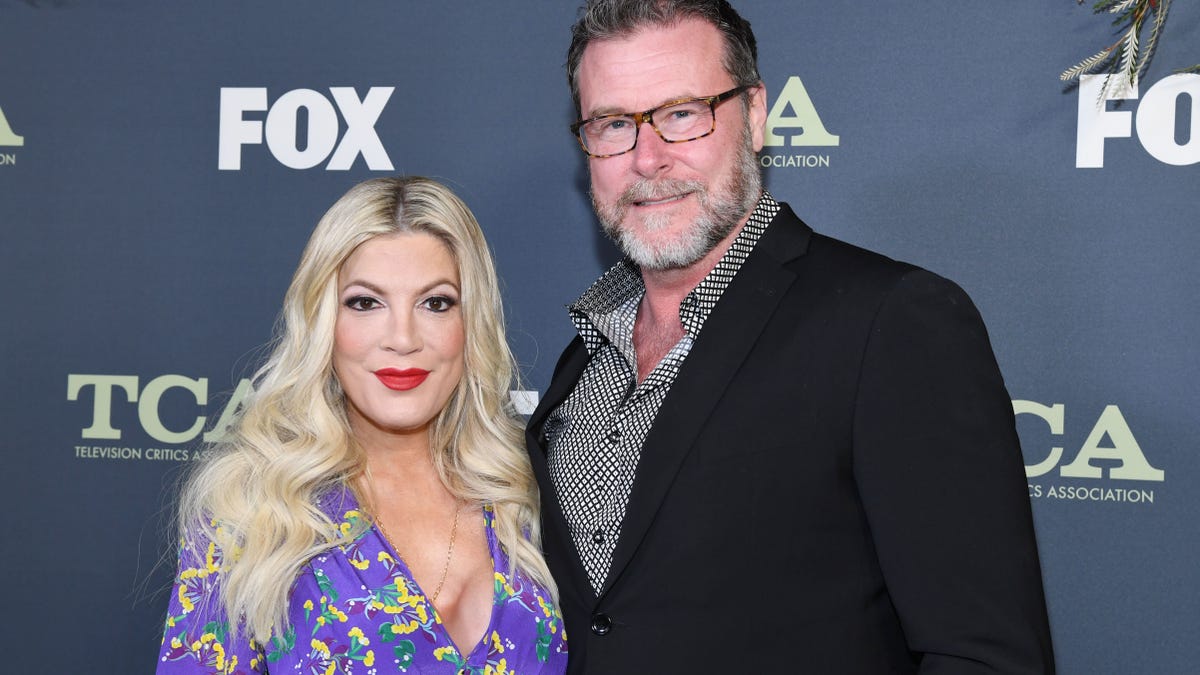 McDermott said he and Spelling were more like roommates than spouses, stating, "I just isolated more and more and more, and she isolated with the kids. … Rarely, rarely, rarely did we eat together. We'd sit down and have a family meal, but it was always disjointed."
He told the outlet he is staying in a sober living home. He said he has not seen his estranged wife or their children in over four months, but he did note that he had begun texting Spelling and very much would like to spend time with the kids.
"Life happens," McDermott said. "It's tough having kids. It's tough living in this town, tough having financial problems. It's just really tough. I'm not making excuses. I certainly had my hand in it in the dissolution of the relationship. But, yeah, hasn't been easy. Nothing in life is easy."
CLICK HERE TO GET THE FOX NEWS APP
However, McDermott said he would always love Spelling.
"I've been so hard and brutal on her that I just want her to be loved and happy. She deserves it," said McDermott.
Fox News Digital's Emily Trainham contributed to this report.