Cornell University junior Patrick Dai appeared briefly in federal court Wednesday on charges that he made online threats to murder Jewish people and behead their babies.
Prosecutors argued that Dai should remain behind bars because he's a "danger and a risk of flight." His defense lawyer, Gabrielle DiBella, chose not to argue for his release, shutting down a hearing on the matter.
The 21-year-old engineering student wore an orange jail-issued jumpsuit, as his parents sat in the gallery. He was arrested Tuesday for the sick posts on a Greek life message board.
"Watch out pig jews. jihad is coming. nowhere is safe. your synagogue will become graveyards. your women will be raped and your children will be beheaded. glory to Allah," he allegedly wrote Oct. 28, according to a criminal complaint.
CORNELL STUDENTS REACT TO SUSPECTED 'HAMAS FIGHTER' ARREST BY DOJ: 'TERRIFYING TO BE ON CAMPUS RIGHT NOW'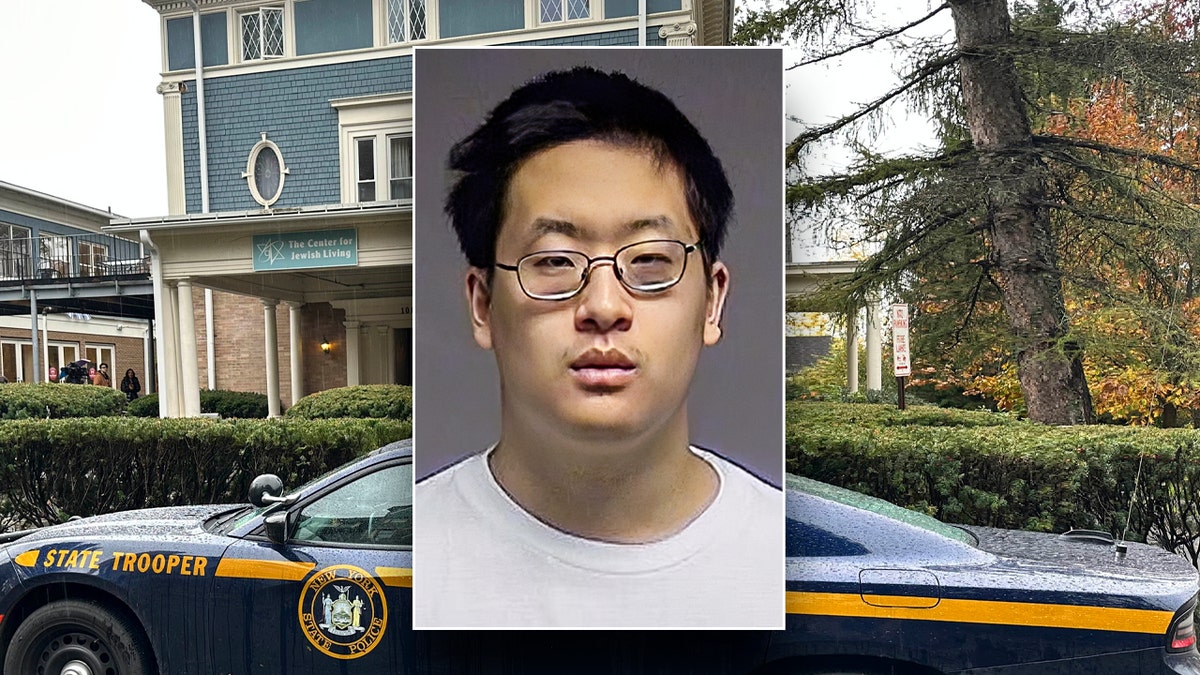 The posts were made in the Cornell University discussion forum under various usernames including "kill jews, "hamas soldier," and "sieg heil."
Dai allegedly threatened to "shoot up 104 west," a campus dining hall that serves kosher food. The cafeteria is next door to the Cornell Center for Jewish Living, which provides housing for Jewish students.
In another post on Oct. 29, Dai threatened to "bring an assault rifle to campus and shoot all you pig jews" who he described as "rats" that need to be eliminated.
In that same post, Dai allegedly threatened to slit the throats of any Jewish males he sees on campus, to rape and throw off a cliff any Jewish females, and to behead any Jewish babies in front of their parents, court papers say. 
SUSPECT ARRESTED IN MYSTERIOUS DEATH OF WOMAN BURNED ALIVE ON ROADSIDE IN RITZY SUBURB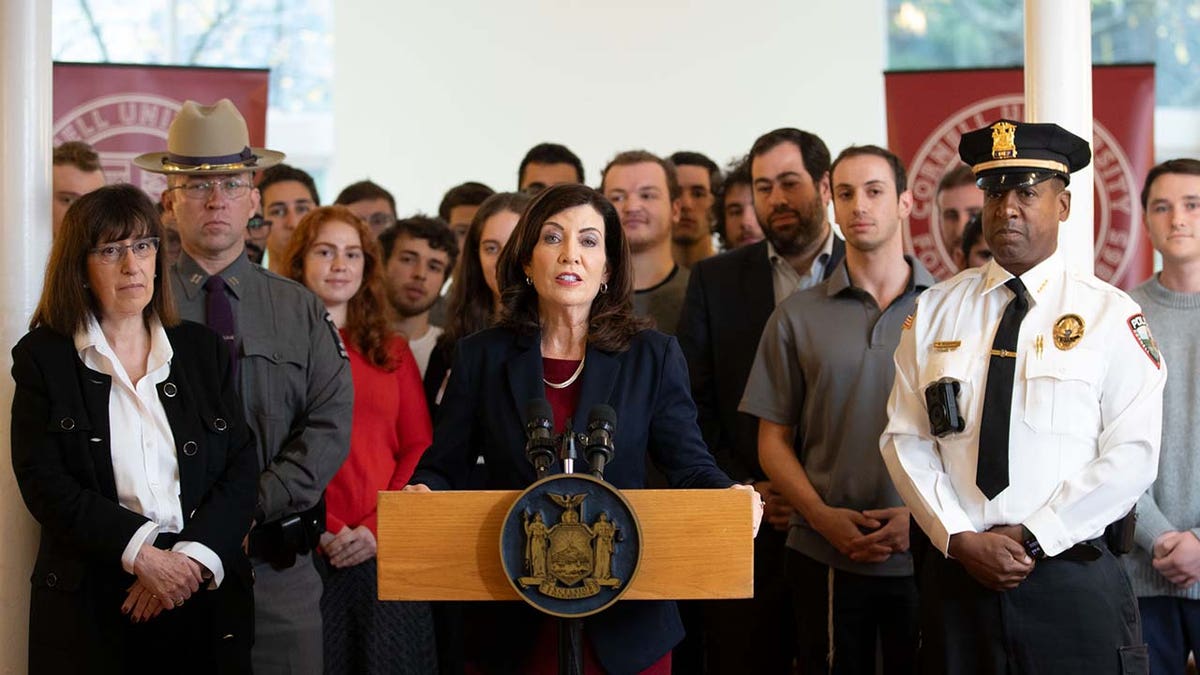 The shocking threats, which were posted in late October, come in the midst of escalating tensions over the Israel-Hamas War and a spike in antisemitism across the U.S.
Cornell University Police and a tipster reported the deranged messages to the FBI Oct. 29. Investigators used his IP address to identify him. 
Two days later, the FBI interviewed Dai, and he allegedly confessed, according to a complaint.
The university's president, Martha Pollack, issued a statement Wednesday condemning antisemitism on campus.
"We will not tolerate antisemitism at Cornell; indeed we will not tolerate hatred of any form, including racism or Islamophobia," she wrote. "It means, first and foremost, that when there are threats or incitement to violence we will respond rapidly and forcefully, as we did in this case." 
She added that the Ivy League school will focus on antisemitism awareness in its diversity programming and implement new policies to counter prejudice against Jews. 
CORNELL UNIVERSITY JEWISH COMMUNITY THREATENED IN ONLINE POSTS; POLICE, FBI INVESTIGATE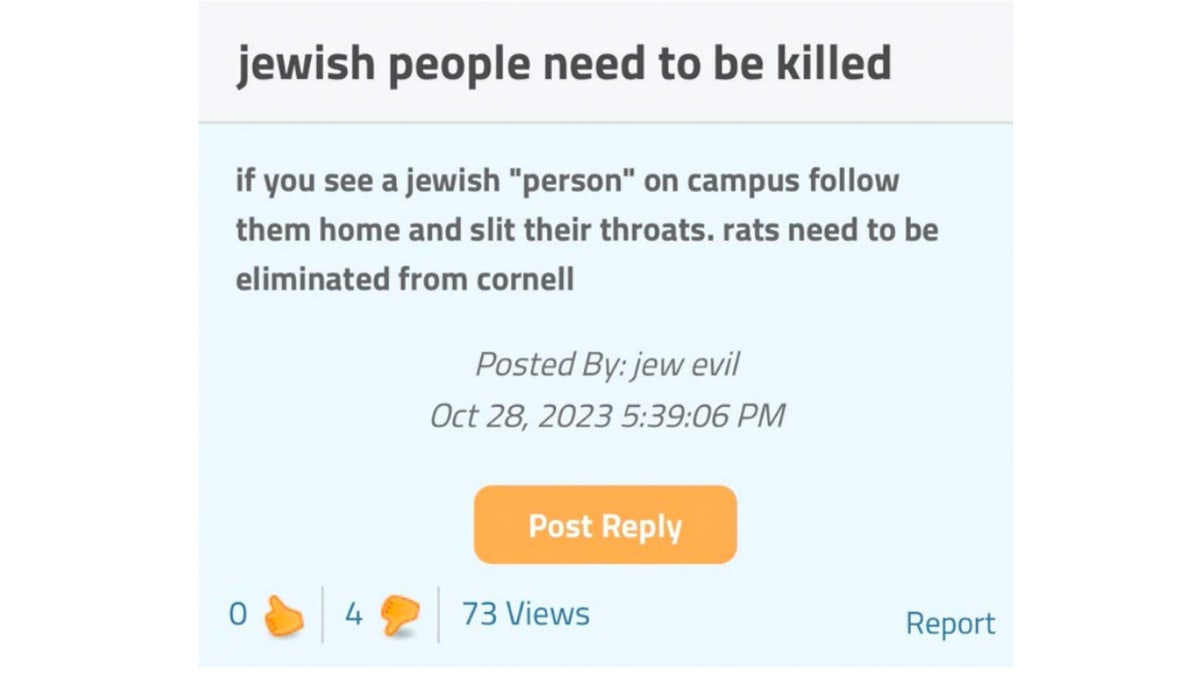 The Center for Jewish Living also released a statement Wednesday.
"It deeply saddens and pains us to learn that the threats were made by a Cornell student, and that such hate exists amongst our peers," the statement says. "There is no place for antisemitism anywhere in this world, and terrorizing actions must be punished."
Dai's parents told the New York Post that he suffers from "severe depression" and was on the brink of suicide before his arrest.
Dai, who is from Pittsford, New York, allegedly began a downward spiral in 2021, taking two semesters off from 2022 to 2023 to improve his mental health.
READ THE DISTURBING FEDERAL COMPLAINT AGAINST CORNELL UNIVERSITY STUDENT PATRICK DAI
In response to the alarming messages, the university increased security for Jewish students and organizations and New York Gov. Kathy Hochul visited the campus.
CLICK HERE TO GET THE FOX NEWS APP
He's charged with making threats to injure or kill another using interstate communications, which carries a maximum sentence of 5 years in prison.
Dai, whose attorney declined to comment, is due back in court Nov. 15 for a preliminary hearing. 
Fox News' Ronn Blitzer and Chelsea Torres contributed to this report.