Recent polls look dismal for President Biden as former President Trump has taken the lead in a hypothetical matchup, indicating bad news for Democrats with Biden's support among key groups slipping.
One recent poll of registered voters between the ages of 18 to 34 indicated the former president and current Republican frontrunner leads by four percentage points over Biden, adding to evidence that the incumbent's support among key groups that helped him reach the Oval Office could be in jeopardy.
"I think that Joe Biden is really out of touch with not only the younger generation, but basically everybody," Alexandria Chung, a Gen Z voter, told FOX News on Monday.
"I think that, on the left, so many people feel disengaged from his politics and what he is advocating for, and I think we are all just looking to see a new face who will unite the country."
BLACK VOTTERS SAY THEY'RE  TURNING AWAY FROM 'WEAK' BIDEN IN 2024: 'HE DIDN'T CHANGE ANYTHING'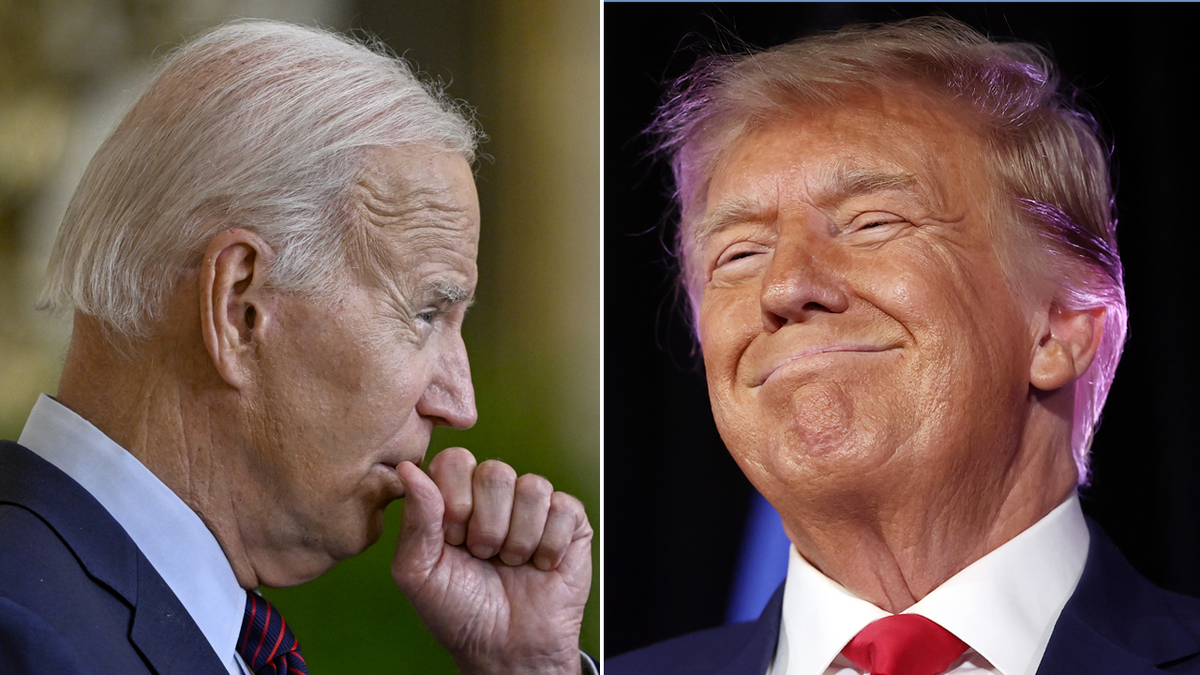 But Democrats counter the calls for a fresh face by arguing Biden's ideas are young despite his age. Democratic Illinois Gov. J.B. Pritzker, for instance, touched on the issue by calling out staunchly conservative Reps. Lauren Boebert, Matt Gaetz and J.D. Vance, saying, "What they stand for is old and ugly."
"What do you think about this strategy?" Carley Shimkus, co-anchor of "FOX & Friends First" asked the panel of Gen Z voters appearing along with Chung as she mentioned Pritzker's remarks.
Panelist Christian Hodges responded, saying it wouldn't work.
"If it does, it's because the Democrats control the media," he said. "We ought to be focusing on the fact that this not about the age of the president, not about the age of the candidate. It's about the competence of the president. Is Joe Biden able to hold the office of president? Is his mind sharp enough? I don't think so.
"I think many Gen Z'ers are waking up to this because their greatest strength is their awareness. So I pray that all generations wake up to this, not just one or two," he continued.
BIDEN'S APPROVAL RATING SINKS OVER ISRAEL-HAMAS WAR; SUPPORT FOR TRUMP IN 2024 RISES: POLL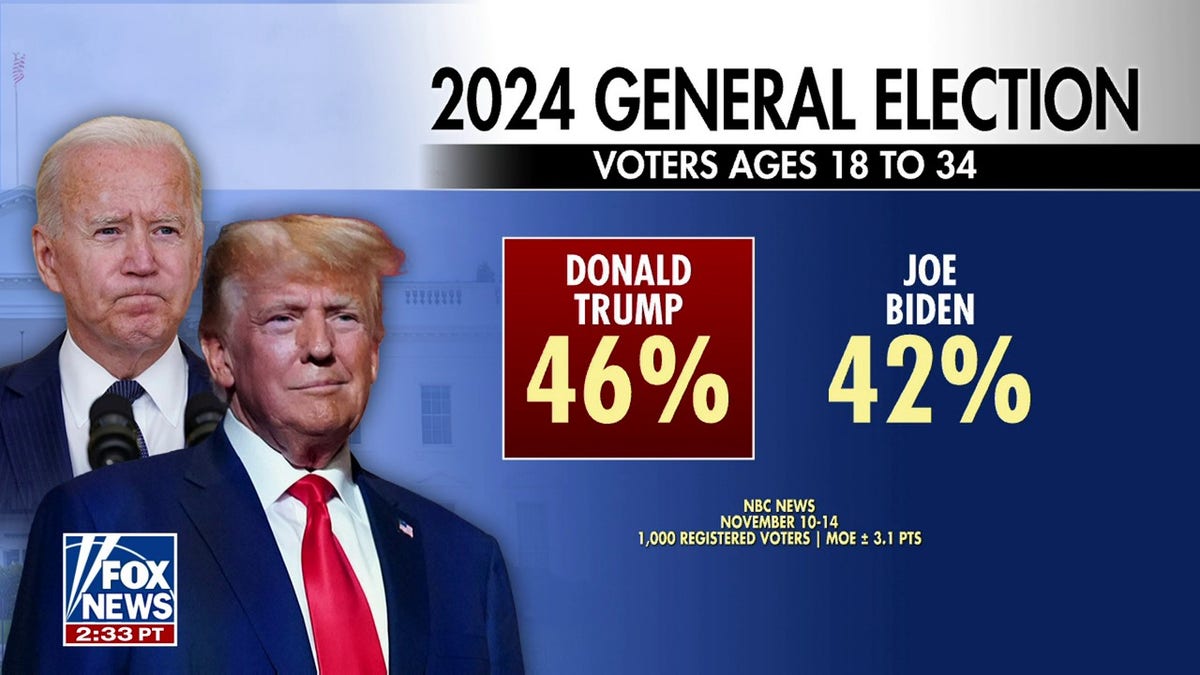 Hodges added that a multi-generational awakening is essential to "preserve freedom" in the U.S.
Ezra Meyer, a third panelist, addressed polling data from NBC, indicating approximately 70% of young voters disapprove of Biden's handling of the war in Israel, as a stark number of young Americans continue to voice support for the Palestinian people.
"What do you think is driving that?" Shimkus asked.
"I think for me, at least as an American with family in Israel, I think Biden's history of global weakness is particularly worrisome right now, especially as his misguided calls for a cease-fire grow within his own party," Meyer responded. 
"And this is not what leadership is. I think it's time we have a presence in the White House that exemplifies what leadership is, and that is not Joe Biden."
Meanwhile, more NBC news polling data indicating Trump holds an overall two-point lead over Biden shocked the hosts of the outlet's "Meet the Press" on Sunday.
BIDEN, TRUMP BOTH LOSE SUPPORT WITH 2 INDEPENDENT PRESIDENTIAL CANDIDATES IN 2024 MATCHUP: POLL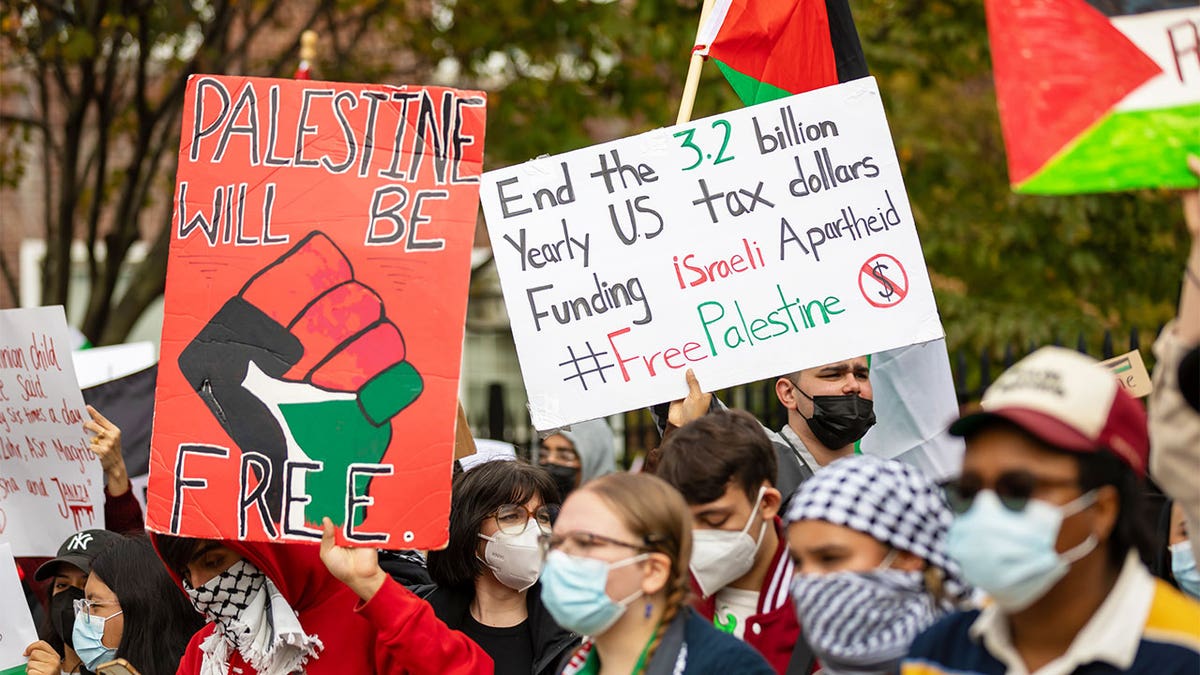 "This is significant because this is the first time in the history of our poll that President Trump beats President Biden," host Kristen Welker said. "[It's] still within the margin of error, but still significant."
Biden's support among other key demographics – including Black and Hispanic voters – continues to erode as well, with a New York Times/Siena College poll this month indicating the Republican front-runner had gained unprecedented support from Black voters in key battleground states that swayed the outcome of the 2024 race.
Earlier this year, a FOX News voter analysis found Biden's support dwindling among Hispanic voters, with only 46% currently choosing Biden, compared to 63% of the same group in 2020. 37% of Hispanic voters support Donald Trump for 2024, compared to 35% in 2020.
CLICK TO GET THE FOX NEWS APP
For more Culture, Media, Education, Opinion and channel coverage, visit foxnews.com/media.
FOX News' Kristine Parks and Elizabeth Heckman contributed to this report.